LOS ANGELES — Throughout 2015, the Hammer Museum will commemorate the 100th anniversary of the Armenian genocide with a yearlong film series, I Am Armenian: A Year of Armenian Culture and History on Film, and a Hammer Forum discussion, The Armenian Genocide: A Century of Denial. The year will be dedicated to exploring the many facets of Armenian culture, history and landscape beginning with the screening of Calendar (1993) on Wednesday, January 28, at 7:30 p.m.
Attending a Hammer public program is free and tickets will be available on site at the Hammer Museum's Billy Wilder Theater Box Office one hour before the program begins. More information about admission is below and online at hammer.ucla.edu .
Announced Films:
Calendar : Wednesday, January 28, 7:30 p.m.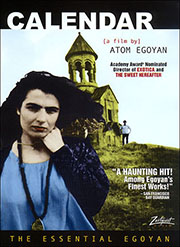 A photographer traveling in Armenia for a calendar project realizes that his wife, an Armenian translator, is falling in love with their driver and unofficial tour guide. The Academy Award-nominated director, Atom Egoyan (The Sweet Hereafter), reveals the unraveling of a marriage through a series of flash-forwards. (1993, Dir. A. Egoyan, 74 min.) Q&A with Dr. Carla Garapedian and Robert Lantos, producer of Ararat, to follow.
The Lark Farm (La Masseria Delle Allodole) : Wednesday, February 4, 7:30 p.m.
An Armenian family becomes caught up in the Ottoman Turkish government's annihilation of the Armenian people between 1915 and 1923. This Italian film by brothers Paolo and Vittorio Taviani is adapted from the best-selling novel by Antonia Arslan. (2007, Dir. P. & V. Taviani, 122 min.) Q&A with Dr. Carla Garapedian and Dr. Siobhan Nash-Marshall to follow.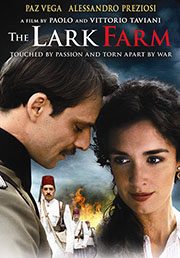 Ravished Armenia: Wednesday, March 25, 7:30 p.m.
The 1919 silent film Ravished Armenia tells the incredible story of Aurora Mardiganian, an Armenian girl caught up in the 1915 Armenian Genocide. After witnessing the murder of her family, Aurora was kidnapped, forced to march over fourteen hundred miles and sold into slavery before finally escaping to Europe and then the U.S.. Her story was the basis for a hugely popular book and film, starring Aurora herself, which was seen by thousands of people around the world. Filmmaker Carla Garapedian, from the Armenian Film Foundation, and Anthony Slide, author of "Ravished Armenia and the Story of Aurora Mardiganian" and former film historian of the Academy of Motion Picture Arts and Sciences, bring Aurora's story to life with rare film clips and photos.
Aghet – Ein Völkermord : Tuesday, April 14, 7:30 p.m.
The prizewinning film Aghet (Armenian for "the catastrophe") by acclaimed German filmmaker Eric Friedler tells the story of the Armenian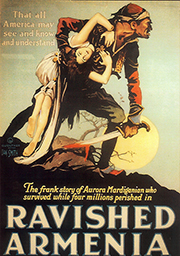 genocide, one of the darkest chapters of the First World War. Though there is an international consensus that up to 1.5 million Armenians died in the Ottoman Turkish Empire, the Armenian genocide is still not recognized by Turkey as a historical fact. Aghet deals with the political motives for this continuing silence. This innovative German documentary relies on authentic testimonies by European and American personnel stationed in the Near East at the time and Armenian survivors. Famous German actors give these eyewitnesses finally the opportunity to make their voices heard. (2010, Dir. E. Friedler, 90 min.) Director Eric Friedler joins us for a discussion following the screening.
Upcoming 2015 Screenings (dates and information to be announced):
– The River Ran Red
– The Color of Pomegranates
– Without Gorky
– The Last Tightrope Dancer in Armenia
– Vodka Lemon

– Here
– Silk Stockings
– A Story of People in War and Peace
Hammer Forum: The Armenian Genocide: A Century of Denial
Wednesday, February 11, 7:30 p.m.
Armenians and human rights advocates around the world commemorate the 100th anniversary of the beginning of the Armenian genocide, in which an estimated 1.5 million people were killed between 1915 and 1923. Richard Hovannisian, a professor of Armenian and Near Eastern History at UCLA, and David L. Phillips, director of the Peace-building and Rights Program at Columbia University, offer an in-depth look at the Turkish refusal to recognize the genocide and efforts to foster dialogue and reconciliation between Turks and Armenians. Hammer Forum is moderated by Ian Masters, journalist, author, screenwriter, documentary filmmaker and host of the radio programs Background Briefing, Sundays at 11 a.m., and The Daily Briefing, Monday through Thursday at 5 p.m., on KPFK 90.7 FM.
Hammer Forum is made possible in part by Bronya and Andrew Galef.
Hammer Presents: Honoring the Armenian Masters
Sunday, April 19, 2:00 p.m.
Co-presented by the UCLA Herb Alpert School of Music
Members of the Armenian Music Ensemble at UCLA and the VEM String Quartet present a chamber music program of masterworks by Armenian classical music in commemoration of the anniversary of the Armenian Genocide.
All Hammer public programs are free and made possible by a major gift from the Dream Fund at UCLA. Tickets for assigned seating in the Billy Wilder Theater are required and available at the Box Office one hour before each program. Early arrival is recommended. Tickets are available one per person on a first come, first served basis.
Visit www.hammer.ucla.edu