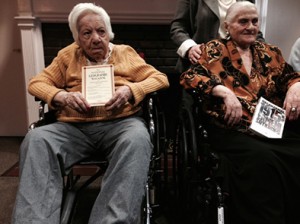 By Taleen Babayan
Azniv Guiragossian sat quietly in a wheelchair between her daughter Arpi and son Shahen in the living room of the New York Armenian Home on a recent warm spring afternoon in Flushing, Queens. Dressed in a patterned blouse and a long black skirt, her tinsel colored hair tied back in a braid, Azniv turned to her son and graced his cheek with her red painted nails as she whispered, "How lucky you are that you were raised by your mother."
Although the words, spoken in Armenian, were made as an impromptu remark from a mother to a son, that simple phrase portrayed the ache still felt by Armenian Genocide survivor Guiragossian, a pain that has lasted almost a century.
Only one year old when she lost both her parents, her father's death resulting from the shock of a death sentence and her mother's demise on the marches through Der Zor, Guiragossian was kidnapped by a Turkish family until her relatives were able to find her. Unable to care for her, however, they placed her and her sister in an orphanage in Aleppo.
"She never had her mother's love," said Nardone. "She was starving for her love."
"She would always say how hungry and cold she was," added Shahen.
Through an arranged marriage, Guiragossian married an Armenian choral director and teacher who later became a priest. Following a move to Beirut, the family of six settled in New York City in 1950.
"My life was very bad," said Azniv, 99, who was born in Urfa. "I was on the streets. But I stayed strong."
Perouz Kalousdian is another Armenian Genocide survivor who was robbed of a childhood and saw the destruction of her family at a young age when Turkish soldiers tied all the males in her family two by two and threw them over the Euphrates River.
"They took my family," said Kalousdian, born in 1909 in Harput. "They separated us and took them away. I never saw them again."
Kalousdian, six years old at the time, recalls being carried on her mother's back during the death marches. Surviving the atrocities on the deportations, she and her mother arrived in Aleppo, Syria, where they stayed before leaving for the United States where they reunited with her father, who had fled the Genocide.
A third survivor who resides at the Armenian Home is Arsalos Dadir, who was born in 1913 in Shabin Karahisar. Her father and uncle were killed by the Young Turks, along with others in their village who were all tied up and shot. She remembers seeing hundreds of bodies piled on top of one another. Her family lost all of their wealth and land, but was able to settle in Constantinople where Dadir married and raised two children, moving to the U.S. later in life.
The New York Armenian Home, founded by Sarah Sanossian in 1948, has long served as a residence for survivors of the Armenian Genocide. An Armenian-only, private, non-funded home for the elderly, led by Executive Director Aggie Ellian, provide around-the-clock care for residents in a culturally rich setting. The Armenian Home is the annual setting for the Armenian Genocide Media Day, organized by the Knights of Vartan, where local Armenian and non-Armenian media interview and record survivors accounts and testimonies from the Armenian Genocide of 1915.
The 99th anniversary commemoration of the Armenian Genocide, sponsored by the Knights and Daughters of Vartan, will be held in Times Square (43rd St. and Broadway) on Sunday, April 27, from 2-4 p.m.
Photo Captions:
AH1: Azniv Guiragossian with her children Arpi Nardone and Shahen Guiragossian at the New York Armenian Home.
AH2: Armenian Genocide survivors Perouz Kalousdian and Azniv Guiragossian, holding copies of "The National Geographic Magazine on Armenia and Armenians 1915-1919," and Hasan Cemal's book "1915: Armenian Genocide."