YEREVAN — Armenia's Constitutional Court overturned on Wednesday a controversial reform of the national pension system that has triggered angry street protests by young workers affected by it. The Court has found several clauses of thr new law on pensions illegal.
The ruling read out by the Constitutional Court chairman, Gagik Harutiunian, gave the government and the parliament until September 30 to scrap this and other provisions declared unconstitutional and bring the pension law into conformity with Armenian law.
According to the new law, citizens born after January 1, 1974, must contribute 5 percent of their monthly salaries to a pension fund and the government must match that contribution with another 5 percent, not to exceed 25,000 drams ($61) per month.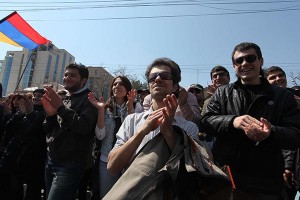 During the day young civil activists held a silent act of protest in front of the Court building, awaiting the verdict. Earlier members of Dem.am civil initiative had threatened civil disobedience should their demands not be met.
Hundreds protested against the law In Yerevan last month, saying the mandatory deduction will not guarantee a decent pension.
The government was quick to react to the verdict with a statement posted on its website. "The government will press ahead with this radical reform aimed at improving the people's well-being within the framework of proper constitutional formulations," said the statement. It added that the government will adopt a "plan of further actions" after receiving and looking into the full text of the Constitutional Court ruling.
Wednesday's ruling marked a rare case of the Armenian Constitutional Court striking down a major government measure. It came amid growing cooperation among the four opposition parties. The latter agreed on Tuesday to jointly stage demonstrations in Yerevan on April 28-30 in support of a vote of no confidence in Sarkisian's cabinet put forward by them in the National Assembly.