SOCHI — The Opening Ceremony of the XXII Olympic Winter Games in Sochi has kicked-off in the "Fisht" Olympic Stadium of Sochi which started at 20:14 Moscow time (16:14GMT), symbolizing the year of the first ever Russian Winter Games.
"The Sochi 2014 Opening Ceremony will be remembered for its scale, style and innovative technology," reads an official statement of the Sochi 2014 Organizing Committee.
Four athletes are representing Armenia at the 22nd Winter Olympics: skiers Sergey Mikayelyan, 22, and Artur Yeghoyan, 24, Katya Galstyan, 21. Arman Serebrakian, a 26-year-old Armenian American from California, will represent the nation in Alpine skiing.
Shirak region skier Mikayelyan is the standard-bearer for Team Armenia during tonight's opening ceremony in Sochi also being attended by Armenian President Serzh Sarkisian.
"We have adopted the principle of making one step forward from Olympiad to Olympiad and our goal is to ensure dignified participation of our country in the Olympics, to have our athletes perform better than during the previous Olympics. I think that one day with our strategy we will achieve higher results, and while we were near the bottom places at the last Olympics, this time I think our results will be different," Armenia Ski Federation Secretary General Gagik Sargsyan told ArmeniaNow, adding that skiing is at the stage of development in Armenia.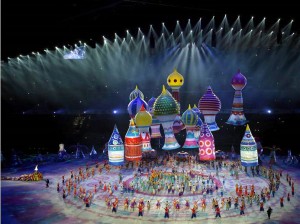 More than 3,000 young talents from schools, as well as professional artistic groups, took part in many of the scenes, which included professional dance, ballet, acrobatic and circus performances. 2,000 Sochi 2014 volunteers are helping in the organization of the Ceremonies both on stage, behind the scenes and within the grounds of the Olympic Park.
For the first time ever, the traditional athletes' parade – Parade of Nations – is being performed in an innovative way with athletes stepping up to the stage along a 48-meter ramp in the middle of the stadium. Representatives of 88 national delegations will take part in the Parade of Nations.
After the official speeches of the president and CEO of the Sochi 2014 Organizing Committee Dmitry Chernyshenko, and the president of the International Olympic Committee Thomas Bach, Russian President Vladimir Putin has declared the XXII Olympic Winter Games open.
By tradition, the Opening Ceremony ended with the lighting of the Olympic Cauldron. The Cauldron of the XXII Olympic Winter Games in 2014 was lit from the very torch that has visited outer space as part of the 2014 Torch Relay.
The Olympic Games will be declared closed on February 23, 2014. The Opening and Closing Ceremonies of the Paralympic Winter Games will take place on March 7, 2014 and March 16, 2014, respective