YEREVAN — The Constitutional Court suspended on Friday the controversial reform of the national pension system pending a ruling on an appeal lodged by Armenia's leading opposition parties.
The four parties appealed to the court last month after failing to scuttle the passage of a corresponding government bill by the Armenian parliament. The bill, which came into effect on January 1, requires Armenians born after 1973 to pay social security taxes equivalent to between 5 and 10 percent of their monthly wages, in addition to contributions made by their employers.T he government says the reform will ensure decent pension plans for citizens when they retire at age 63.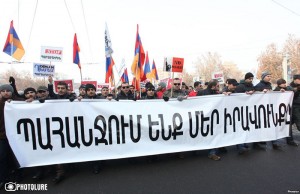 The reform has sparked vehement objections from young and relatively well-paid professionals. Thousands of them as well as other disgruntled Armenians took to the streets of Yerevan last Saturday to protest against what they see as an unfair and unconstitutional measure.
Representatives of the opposition minority in the National Assembly also joined the protest. They claim that that the pension reform breaches, among other things, citizens' property rights guaranteed by the Armenian constitution.
The Constitutional Court announced that it will open hearings on the opposition appeal on March 28. In a statement, the court said the reform will be suspended at least until it hands down a ruling.
Meanwhile, President Serzh Sarkisian again defended the controversial reform, saying that it will bear fruit and be recognized as "historic" in the future. Visiting the Ministry of Labor and Social Reforms, Sarkisian instructed officials there to do a better job of explaining its merits to affected citizens. "You should mobilize not only the entire ministry staff but also various experts, people, our supporters so that they explain in detail the essence, significance and purpose of the reform," he said.