YEREVAN — Hundreds of people, among them civil activists and members of opposition parties, marched through the capital of Armenia on Monday to denounce visiting Russian President Vladimir Putin and protest against plans to join a Moscow-led customs union.
The mostly young protesters waving Armenian national flags and holding posters denouncing Putin and President Serzh Sarkisian marched through the city center to demand that Armenia stay away from the union. They ignored police warnings that the rally was not sanctioned by the municipal authorities.
The crowd chanted "Free, independent Armenia," "Putin, go home," "Serzhik, go away" as it made its way to the Prime Minister's Office in Yerevan's Republic Square. Scores of riot police blocked the protesters' way moments later, after the latter tried to march towards the presidential palace located more than a kilometer away.
At least 110 people were detained after clashes with riot police.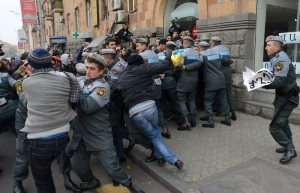 Security forces made first arrests after some of the activists apparently tried to break through a police cordon set up on a major street in downtown Yerevan. The demonstrators, among them several leading members of the opposition Zharangutyun (Heritage) party, then turned back and rushed to another street only to be again blocked by rows of lightly equipped riot police. More of them were detained on the spot.
The detentions reportedly continued in the following hours. Organizers of the protest spoke of dozens of their comrades being taken to police stations. Among them were Levon Barseghian, a veteran civic activist, Davit Sanasarian, a senior Zharangutyun figure, as well as two journalists.
A police statement issued later in the day put the total number of detainees at 110. It accused them of defying "police orders defined by the law." It was not immediately clear if any of the activists risked criminal charges.
The police statement defended the overall use of force, saying that the protesters disrupted traffic and engaged in other "manifestations of illegal conduct."
Leaders of the protest denied any wrongdoing and demanded the immediate release of all detainees. "The authorities continue to resort to abuses against their citizens," charged Artur Sakunts, a prominent human rights campaigner.