YEREVAN — Armenia's Central Election Commission (CEC) has finalized the counting of votes from all of 1988 polling stations.
The CEC said that with ballots counted in virtually all nationwide polling stations President Serzh Sarkisian garnered 58.6 percent of the vote in Monday's presidential election.
Raffi Hovannisian came in second with 36.7 percent of the vote, followed by another opposition candidate, Hrant Bagratian. The latter got almost 2.2 percent, according to the CEC.
The CEC also said that the voter turnout exceeded 60 percent.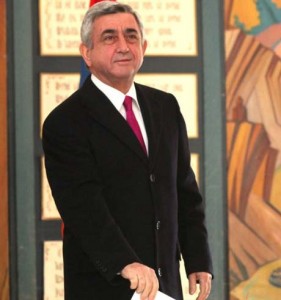 Hovannisian is likely to reject the official results as fraudulent after effectively declaring victory in the ballot in his first public comments made after the closure of the polls. "The Armenian people have won … and I am grateful for the people's victory," he told a late-night news conference.
"For the first time in 20 years the citizens have said yes to our constitution, to the rule of law, to democracy and our future," said the U.S.-born leader of the Zharangutyun (Heritage) party who had served as independent Armenia's first foreign minister. "This is not about Raffi and Serzh. This is not about Heritage or the [ruling] Republican Party. It's about the future of the Republic of Armenia."
"I had the honor in 1992 of raising the Armenian flag at the United Nations," continued Hovannisian. "That was a great honor for me. But it is a greater honor to accept the mandate of the Armenian people in its first public expression of confidence in its own authority and future so that we may together, in the next five years, put Armenia on the map once again of world civilization, democratic statecraft, rule of law and pursuing the national interests."
Hovannisian refused to answer any questions from journalists, saying that he will elaborate on his stance at a rally on Tuesday evening.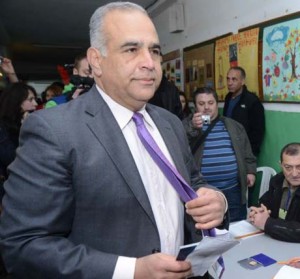 Hovannisian's campaign spokesman, Hovsep Khurshudian, challenged the credibility of the first CEC figures, saying that the opposition candidate won in dozens of constituencies across the country. "We have results from 42 precincts which strangely do not coincide with the CEC's preliminary data from 21 or 22 precincts," Khurshudian told journalists. Hovannisian got as much as 68 percent of the vote in those areas, he said.
Media reports likewise listed scores of precincts in Yerevan as well as central and northern Armenia where official results showed Hovannisian defeating the incumbent president.
Khurshudian accused the Armenian authorities of pressuring election officials not to publicize vote protocols certifying the opposition victory. He also alleged fraudulent ballot counting in some precincts.
The CEC did not immediately comment on these allegations. But the Sarkisian campaign was quick to respond to Hovannisian's declaration of victory. In a written statement cited by Armenian news agencies, Davit Harutiunian, the incumbent's deputy campaign manager, urged Hovannisian to "accept the results and move on." "I am sure that this way we will jointly make history," he said.