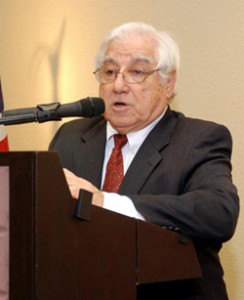 By Prof. Osheen Keshishian
An important academic conference was held on Saturday,October 27, 2012, on the occasion of the 125th anniversary of the establishment of the first Armenian political party, the Social Democratic Hunchakian Party.
The event took place at Woodbury University's Fletcher Jones Foundation Auditorium in Burbank, California. The conference was organized by the Armenian Educational BenevolentUnion (AEBU) and the Nor Serount Cultural Association (NSCA), and co-sponsored by the Richard Hovannisian Endowed Chair in Armenian History at UCLA, Armenian Research Center at the University of Michigan, Woodbury University, and the National Association for Armenian Studies and Research (NAASR), thus giving more weight and importance to the conference.
The Social Democratic Hunchakian Party (SDHP) is the first Armenian political party which was established in 1887 by a group of young intellectuals studying in Geneva, Switzerland. They were Avedis Nazarbekian, Kevork Gharadjian, Mariam Vardanian, Ruben Khan-Azat, Kristapor Ohanian, Gabriel Kafian, and Manuel Manuelian.
They were all Russian Armenians with definite leaning toward Marxism and socialism and all of them were in their twenties. It is also interesting that a young woman was also among the founders.
Renowned individuals joined the party, like Antranik Ozanian, Stepan Sabah-Gulian, Mourad, Paramaz and others. The Hunchakians participated in the Sasoun, Van, Shabin Karahisar and Zeytoun resistance movements and many times in leadership positions.
The party established several newspapers, schools, youth groups, engaged incultural and athletic activities throughout the Middle East, Europe, The United States, Canada, South America, and other locations.
This short story was expanded, studied, analyzed during the high caliber conference with the participation of scholars and professors from Europe and Eastern and Western United States, a phalanx of experts – Sebouh Aslanian, Ara Sanjian, Gerard Libaridian, Hratch Tchilingirian, Rev. Abel Manoukian, Vahram Shemmesian, Garabet Moumdjian, Kevork Bardakjian, Richard Hovannisian, Aram Arkun, Ara Dostourian, and Vartan Matiossian.
They talked about the ideology, problems, difficulties, inter-party relations, achievements, issues and various activities of the Hunchakians, particularly during the Ottoman Empire. Many speakers wanted to talk longer their allotted time, because there is so much to delineate about the first Armenian political party.
This conference was long overdue, and I am glad that it took place revealing hitherto little known or even unknown events, activities, principals, andfacts.
One eye-catching fact was that the audience was overwhelmingly an educated class of the community. At the same time, it was unfortunate to notice the absence of the members of the other political parties, and you could count them on your fingertips.
The conference was webcasted live. Another positive observation: it was announced that the conference proceedings will be printed in a book very soon, so that history will be available for everyone.
The organizing committee, the core members – Harut Der-Tavitian, Sevak Khatchadourian, Vasken Khodanian and Thomas Yeterian, – deserve a great thank you.