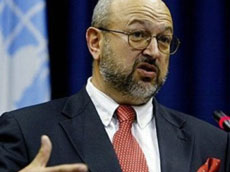 ARMENIA — The Organization for Security and Cooperation in Europe on Thursday renewed its calls for the parties to the Nagorno-Karabakh conflict to withdraw snipers from the frontlines and agree to joint investigations of growing truce violations there.
Lamberto Zannier, the OSCE secretary general, made a case for this and other confidence-building measures during a visit to Yerevan that marked the second leg of his regional tour. The Karabakh dispute was high on the agenda of his talks with President Serzh Sarkisian and Foreign Minister Edward Nalbandian.
"The conflict must be resolved peacefully and the OSCE is ready to use all of its instruments … to achieve a peaceful resolution of the conflict," Zannier told a joint news conference with Nalbandian. "Of course, the status quo is not a solution but we should avoid armed incidents by all means," he said.
Zannier made similar statements after his talks with Azerbaijani leaders in Baku on Monday. He said he is "deeply concerned" by recent fighting around Karabakh and along the Armenian-Azerbaijani border, which killed at least a dozen soldiers on both sides.
The ideas of sniper withdrawal and joint investigations of armed incidents have been advanced in the last few years by senior OSCE officials as well as the U.S., Russian and French mediators acting under the OSCE aegis. The OSCE's chairman-in-office, Irish Foreign Minister Eamon Gilmore, insisted on them when he visited Baku and Yerevan last month.
Unlike the Armenian side, Azerbaijan has repeatedly spoken out against sniper withdrawal. Azerbaijani Foreign Minister Elmar Mammadyarov also effectively rejected last month a mechanism for joint investigations proposed by the mediators.
"If we start applying that mechanism now, that will only mean reinforcing the status quo, which is unacceptable," Mammadyarov said after talks with Gilmore. "If Armenia does not want its soldiers to die, then it must liberate Azerbaijan's lands. If this happens, there will be no need for snipers in the first place," he added.
Nalbandian complained about Baku's stance at the news conference with Zannier. "This is the reality, but there is no alternative to negotiations and Armenia will carry on with negotiations and efforts at a quick settlement of the conflict," he said.