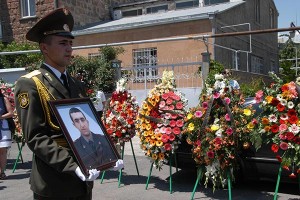 YEREVAN –Thousands of people – Avetian's relatives, friends and colleagues, as well as intellectuals, political figures, civil society representatives and numerous other citizens – attended the funeral. of Armenian military doctor Major Vahe Avetian on Monday amid continuing public outrage against a government-connected businessman who employed the men accused of beating him to death at a Yerevan restaurant last month.
The crowd comprising Armenia's top army general, opposition politicians and civic activists silently walked behind Vahe Avetian's body as it was carried in an open coffin through a Yerevan neighborhood where he lived with his family. The procession was led by a military brass band and soldiers holding four wreathes. A letter from the 35-year-old's first name emblazoned on each of them.
Prominent political and public figures attending the funeral reaffirmed their strong condemnation of the June 17 beating of Avetian and two other military doctors at the Harsnakar restaurant.
Colonel-General Yuri Khachaturov, chief of the Armenian army's General Staff, issued a stark warning to Hayrapetian and other "oligarchs" that have long been linked with violent conduct. "I want to warn everyone not to touch the army," Khachaturov told RFE/RL's Armenian service (Azatutyun.am) during the funeral. "I'm saying that for the last time. Those who have bodyguards, armed men must behave themselves."
After the funeral, some of the participants headed for the Prosecutor General's Office of Armenia.
Through a loudspeaker the participants in the action urged the people to join the struggle against the "authorities-sponsored oligarchic system."
The protestors were crying out "Nemets is a murderer!" (Nemets is the nickname of President of the Football Federation of Armenia, MP of the ruling Republican Party of Armenia (RPA) Ruben Hairapetyan), "I am Vahe Avetian!"
In a related development, one of the on-line travel agencies in Armenia, Georgia and Nagorno-Karabakh, ginosi.com joined the protest, too, temporarily taking out from its website the information on Harsnakar Restaurant in Yerevan as well as in Harsnakar hotel located near Lake Sevan.
"As a socially responsible company, we have decided to temporarily suspend Harsnakar's listing from ginosi.com until an investigation clarifies as to what exactly has transpired at the Harsnakar Restaurant on the evening of June 17th which led to the death of Vahe Avetian," ginosi.com said in a statement.