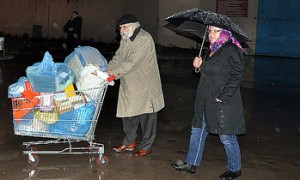 ISTANBUL — Owner of Belge Publishing House in Istanbul Ragip Zarakolu, who has issued a number of works about the Armenian genocide, and 15 other detainees have been released from prison.
Ragip Zarakolu was arrested in connection with the Kurdistan Communities Union (KCK) trials.
The release sparked bittersweet joy for the publisher's son, who expressed concern at other family members who remain behind bars. "Only 50 percent of our job is done, because my brother, Deniz Zarakolu, has yet to be released. They depicted my father and my brother as terrorists. Now they are releasing one of them, while keeping the other one in [jail]. What can I say?" Ragip Zarakolu's son Sinan Zarakolu told the Hürriyet Daily News.
Amnesty International sent a letter to Turkish Deputy Prime Minister Besir Atalay last December calling for the release of Zarakolu. Amnesty called on the authorities to prevent unfair prosecutions under anti-terrorism legislation by bringing the definition of terrorism in line with international standards and norms.
Ragip Zarakolu is among the Turkish intellectuals who have recognized the Armenian genocide. In his Belge Publishing House the Turkish intellectual has published numerous books about the Armenian Genocide.