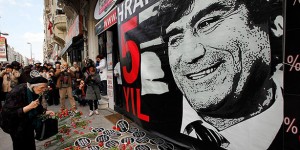 ISTANBUL — An Istanbul prosecutor investigating the 2007 murder of Turkish-Armenian journalist Hrant Dink has appealed a January court verdict that ruled out involvement of an organized criminal network in the killing, saying the murder was undoubtedly the work of Ergenekon, Today's Zamman Daily reports.
Specially authorized Istanbul Public Prosecutor Hikmet Usta filed his appeal at the Supreme Court of Appeals on Thursday. Similar to his final opinion submitted to the Istanbul court hearing the Dink case in September of last year, the prosecutor insisted that the murder was committed by Ergenekon's cell in the Black Sea province of Trabzon.
Usta said the court's ruling acknowledged the existence of an organization behind the killing, but said there was a "lack of evidence" to prove its existence. The prosecutor said he based the appeal on the grounds that the court reached a verdict despite serious deficiencies in the investigation of the case.
The prosecutor said in the appeal that the Dink murder is a "flawless" Ergenekon plot and that the court failed to make an accurate assessment of the incident in this regard. He said the court should have waited for a decision from another court currently hearing the Ergenekon case.
In what many said was a shocking and frustrating ruling in the five-year-long trial in the Dink case, the Istanbul 14th High Criminal Court in January cleared all suspects of charges of membership in a terrorist organization, angering lawyers and many others who say the trial failed to shed light on alleged connections between the suspects and state officials.
The court convicted Yasin Hayal, a major suspect in the killing, of instigating a murder and sentenced him to life in prison, while another suspected instigator, Erhan Tuncel, was acquitted by the court. A juvenile court had already sentenced Dink's assassin, Ogün Samast, to 22 years, 10 months last July. He was 17 when the killing took place.