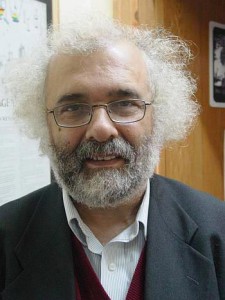 ISTANBUL — The Turkish police have detained Ragip Zarakolu, a well-known human rights activist and director of Belge Publishing House, in Turkey. Zarakolu is also the chairman of the Publishers Association Freedom to Publish Committee of Turkey.
Zarakolu was taken into custody on October 28, 2011, during a large-scale manhunt in Istanbul against Kurdish and human rights activists.
Under this operation, 41 people were taken into custody as well. Police raided variouspro- Kurdish Peace and Democracy Party (BDP) offices in Istanbul including the BDP Istanbul Politics Academy and several BDP branches.
His son, Deniz Zarakolu, editor of the B! elge Publishing House, was arrested on October 4.
Ragip Zarakolu's Belge Publishing House has published numerous books as well on the oppression of the national minorities in Turkey as the Armenian Genocide.
Earlier on same day, within the same man-hunt, Professor Büsra Ersanli, a constitutional law expert and a member of the pro-Kurdish Peace and Democracy Party's (BDP) intra-party constitutional commission, was detained along with dozens of others.
Counterterrorism units launched simultaneous operations against suspected KCK members early on Friday and detained 41 people. Police raided various BDP offices in Istanbul as well, including the BDP Istanbul Politics Academy and several BDP branches.
Ersanli, who has been taking part in the BDP's preparations for a draft constitution, is also among the detainees. Sources said the number of detainees may increase as the operation is still under way.
BDP Co-chairman Selahattin Demirtas strongly criticized the new wave of detentions on Friday. "We will not be able to talk about a healthy constitution-making process if we go ahead like this. We will have no party member who can join efforts for [drafting] a new constitution," Demirtas said.