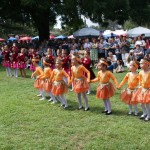 PASADENA — The 4th Annual Armenian Identity Festival took place on Sunday July 31st, from noon to 8:00 p.m. at Pasadena's Victory Park. The 4th Annual Armenian Identity Festival was arranged by the Armenian Community Coalition. Appointed as master of ceremony was Mary Agulian, who enthusiastically communicated with the patrons of the event. The success of this year's festival was calculated by attendees reaching over 3,000.
The festivities kicked off at 2pm with the presentation of the colors by members of the United States Marine Corps. Ara Sahagian did the honors of singing both the American and Armenian national anthems. To Celebrate Pasadena's 125th Anniversary city dignitaries, including Pasadena Mayor Bill Bogaard, Pasadena Police Chief Phillip Sanchez and wife Debora, Pasadena City Councilmember Gene Masuda, PUSD Board member Ramon Miramantes, Robin Salazar, and ACC Chairman Khatchik "Chris" Chahinian sliced a celebratory cake to honor Pasadena. Prior to cutting the cake Ara Sahagian also had the honor of singing "Happy Birthday, Pasadena."
Live musical entertainment was provided by Sahag Sislian, Kevork Chakmacyan, Nshan Tchaghatsbanian and Khatchig Nahabedian throughout the day. People enjoyed the ethnic and local foods, while children participated in various activities. There were many exhibitions, including classic cars and local organizational booths. Nor Serount children's Dance group, choreographed by Lilian, presented Armenian folk dances, and the Macarena. As the day progressed, Hye Kempo karate students performed.
Part of the festivities included a raffle for both a watch and a gold pendant; the watch was donated by Tic-Time, of Glendale Gallery. The gold and diamond pendant donated by Albert Tchoukadarian of Noble Jewelers in Monrovia was the grand prize of the raffle. Congratulations to both winners, the Grand Prize winner was Sarkis Sahagian of Pasadena.
On behalf of the Armenian Community Coalition, Chairman Khatchik "Chris" Chahinian presented two plaques of appreciation. The first plaque was presented to Mayor Bill Bogaard and the other to the United States Marine Corps, in appreciation for their service to the USA.
The Armenian Community Coalition is working hard to commission and bestow a Genocide Monument in the city of Pasadena, in honor of 1915 Genocide victims. For this project, six artists displayed and presented designs for the proposed monument. A petition campaign has begun to collect signatures to encourage the placement of a genocide monument. The Mayor, Councilman Masuda, and the Police Chief were among the first to sign the monument petition.
The Armenian Community Coalition of Pasadena is composed of schools, churches, and cultural organizations. Its mission is to bring the Armenian community together and work with other public groups to improve education, increase employment opportunities, and enhance living conditions in Pasadena.