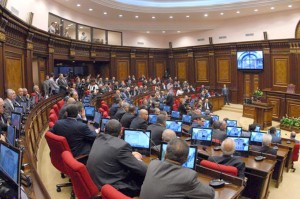 YEREVAN — The Armenian parliament has overwhelmingly approved a general amnesty that should lead to the release of virtually all opposition members currently in jail. The general amnesty is going to cover about 800 convicted prisoners or people serving suspended jail sentences.
The amnesty is to cover people who committed crimes before May 1, 2011.
The release of all political prisoners is one of the three main preconditions of the opposition Armenian National Congress (HAK) for starting a potentially far-reaching dialogue with President Serzh Sarkisian and his three-party governing coalition.
Sarkisian requested the move last week.The National Assembly approved the bill by 90 votes to 0, with one abstention.
The amnesty is expected to result in the quick release of some 400 prisoners, which is equal to roughly 10 percent of the country's entire prison population.
Among them will be four members of the opposition Armenian National Congress (HAK) jailed in the wake of the protests that followed the disputed February 2008 presidential election.
The amnesty law will take effect the day after it is signed by parliament speaker Hovik Abrahamian and formally published. Abrahamian must sign the bill within 24 hours.
Asked when the opposition figures and other detainees will be set free, Justice Minister Hrayr Tovmasian told RFE/RL's Armenian Service: "We have to see when it will enter into force. We still have 22 hours to publish the law."
In addition to the release of all political prisoners, the HAK is insisting on the lifting of a de facto government ban on opposition rallies in a key Yerevan square and a renewed investigation into the 2008 unrest. The Armenian authorities effectively met those demands late last month.