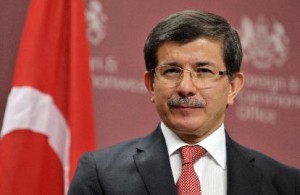 ANKARA, WASHINGTON, DC — Turkish Foreign Minister Ahmet Davutoglu condemned President Obama's statement marking 96th anniversary of the Armenian Genocide.
Davutoglu called the statement one-sided adding he wished the U.S. president shared Turks' pain as well, Hurriyet newspaper reports.
"However, we will remember our losses during the World War I. A one-sided statement is not sufficient from the viewpoint of understanding historical events," he noted.
He expressed hope that pain would be shared in the future.
In his written address to the Armenian nation, U.S. President Barack Obama called killing of 1.5 million Armenians "one of the worst atrocities of the 20th century".
Turkish Ambassador to Washington Namik Tan also criticized President Obama for his annual April 24 address to the Armenian people.
Tan responded Obama on Twitter, labeling U.S. President's statement inaccurate, flawed and one-sided political characterization of history.
"It is unacceptable for third parties to pass judgment based on domestic political considerations on history of Turkish-Armenian relations. Such unwarranted statements will only complicate efforts to reach a just memory on the Turkish-Armenian common history," he tweeted.