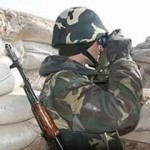 By Joshua Kucera
EuresiaNet
This must have been some peace mediation:
Azerbaijan is seriously preparing for war with Armenia over the disputed region of Nagorny Karabakh, the country's defence minister told international peace mediators in Baku on Friday.
"Azerbaijan is seriously preparing to liberate its territories," Safar Abiyev said in comments published by the ministry's press service.
It's hard to know how seriously to take these sorts of statements; the phrase "bellicose rhetoric from Baku" is by now a firmly entrenched cliche of Caucasus journalism. Still, that statement sounds, to my ears, more blunt than normal.
One of the most interesting parts of the recent International Crisis Group report, was its speculation about what would happen in a war between Armenia and Azerbaijan over Karabakh. It concluded that, while Azerbaijan has an obvious advantage in military spending, a variety of other factors could give Armenia an edge:
Former President Ter-Petrossian, was careful not to present the 1990s war as a conflict between Armenia and Azerbaijan, in order to emphasise the battlefield role of Nagorno-Karabakh forces and to downplay the Armenian army's involvement. The present Armenian leadership makes no such pretence. A premeditated resumption of hostilities by Armenian forces is not likely, but cannot be ruled out, as Yerevan commentators and some military officials, notably in Nagorno-Karabakh, warn of a "preventive war" if the entity comes under imminent threat.
Armenian military analysts are confident of a tactical advantage, as their forces control most of the high ground around Nagorno-Karabakh.The northern positions are naturally well protected by the roughly 3,000-meter high Murov Mountains, while the lower, eastern flanks are mined and fortified by several lines of trenches. Any offensive beyond Fizuli and Jebrail would be literally and figuratively an uphill battle over difficult mountain terrain for Azerbaijan, requiring at least triple superiority in troops and arms, or a significant combat air advantage that Baku lacks.
Morale and combat readiness in Armenia's army is also generally considered to be higher than in Azerbaijan's, which suffers from past defeats, extensive corruption and a rigid chain of command. Armenian analysts point to the greater number of Azerbaijani casualties in most front-line skirmishes. Suicides and hazing in the Azerbaijani forces are also regularly reported. However, a recent spate of fatal hazing and other non-combat-related deaths, particularly in units in Nagorno-Karabakh, signal that Armenian superiority in morale may be exaggerated.
If war started, Azerbaijan civilians would be the more vulnerable, as cities, towns and new IDP settlements are close to the Nagorno-Karabakh line of contact. Major Karabakh Armenian settlements are deeper within territory the entity controls, and its troops are mostly deployed in sparsely populated zones.
As is usually the case with the ICG, the whole report is worth reading. It also discusses what Turkey and Russia would do in the case of a war (it concludes that neither would directly intervene), the military buildup on both sides, the political pressures on both presidents that make war more likely, and the foundering peace process — and that was before Abiyev told mediators Baku was seriously preparing for war.