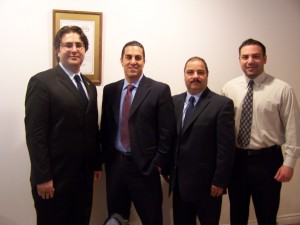 GLENDALE, CA — Members of the Armenian Council of America met with California State Assemblymember Mike Gatto this week to discuss a number of issues of concern to his large Armenian-American constituency. Gatto's district, which includes the cities of Glendale, Burbank in their entirety and portions of North Hollywood, is home to the largest concentration of Armenian-Americans in the United States.
During the hour-long meeting, Assemblymember Gatto briefed the ACA representatives on Governor Jerry Brown's proposed budget and its impact on Californians. The Assemblymember also informed the ACA representatives on Assembly Bill 173 (AB 173), which he introduced, and Assembly Joint Resolution 2 (AJR 2) introduced by Assemblymember Portantino with co-authors Assemblymember Achadjian, Gatto, and Halderman, and State Senators Berryhill, De León, Liu, Simitian, Wyland, and Yee.
AB 173 would extend the deadline for Armenian genocide victims or the heir or beneficiary of that victim, who has a claim arising out of an insurance policy or policies purchased or in effect in Europe or Asia between 1875 and 1923, to bring a legal action to recover on that claim in a court in this state.
AJR 2 would designate April 24, 2011, as "California Day of Remembrance for the Armenian Genocide of 1915-1923." The Resolution also calls on President Obama and Congress to formally recognize by its proper name, the atrocities committed during the genocide and calls on Turkey to acknowledge its role in the Armenian Genocide and the deaths of more than 1.5 million people.
The Armenian Council of America is a grassroots organization dedicated to work with all political leaders, offering Armenian related news, analysis and resources for policymakers, media, students and activists, advocating issues important to Armenian Americans. The Armenian Council of America aims to strengthen U.S. – Armenia and U.S. – Nagorno Karabakh ties, the development of programs promoting sustainable economic growth and good governance in Armenia, while promoting the values and responsibilities of global citizenship.