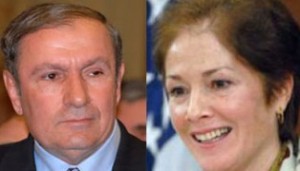 YEREVAN — Marie Yovanovitch, the U.S. ambassador to Armenia, met on Friday with opposition leader Levon Ter-Petrosian to discuss the internal political situation and external challenges facing the country.
In a short statement, Ter-Petrosian's Armenian National Congress (HAK) said the two touched upon "a broad range of issues relating to Armenia's internal and foreign policy."
Levon Zurabian, the HAK's central office coordinator who attended the meeting, told RFE/RL's Armenian service that those issues included the continuing imprisonment of HAK members, the broader situation with human rights and domestic political developments.
Zurabian said government corruption, the socioeconomic situation in the country as well as the unresolved Nagorno-Karabakh conflict were also on the agenda. He declined to give further details.
Ter-Petrosian has been very critical of the West's reaction to the Armenian authorities' handling of the disputed February 2008 presidential election, in which he was the main opposition candidate, and their post-election crackdown on his opposition movement. He has repeatedly said that Western powers are too lenient towards a government they hope will make major concessions to Turkey and Azerbaijan.