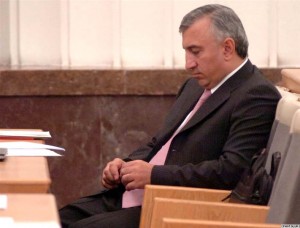 Justice Minister Gevorg Danielian was unexpectedly sacked on Thursday for what the Armenian government described as a failure to punish one of his high-ranking subordinates allegedly involved in violent conduct.
Prime Minister Tigran Sarkisian (no relation) clarified at a weekly meeting of his cabinet that Danielian was dismissed in connection with a recent assault on an employee of the Justice Ministry's Service for the Mandatory Execution of Judicial Acts (SMEJA). The official was reportedly beaten up by Mihran Poghosian, the controversial head of the agency.
"The head of the Service for the Mandatory Execution of Judicial Acts has committed a serious violation of ethics rules," Tigran Sarkisian told ministers. "The justice minister was instructed to publicly punish the head of the SMEJA for that behavior. Unfortunately, the justice minister has failed to carry out that instruction."
"A lot depends on the behavior of each of us, and we must be very demanding towards our subordinates and consider inadmissible the kind of behavior that directly undermines public trust in us," he said. The prime minister did not specify whether Poghosian too will be dismissed or face prosecution.
The SMEJA chief is believed to have extensive business interests. One of the companies reputedly owned by him was accused by pro-opposition media of buying votes for Serzh Sarkisian during the February 2008 presidential election.
His humiliating sacking, clearly engineered by Prime Minister Sarkisian, is a serious blow to Armenia's influential and politically ambitious Prosecutor-General Aghvan Hovsepian. Danielian has long been regarded as Hovsepian's protégé. He held high-level positions in the Prosecutor-General's Office before being appointed as justice minister in 2007.
Danielian's ouster is also a further indication of Tigran Sarkisian's increased political clout. The former governor of Armenia's Central Bank highlighted it last month when he publicly accused several government ministers of mismanagement and fired some of their deputies.