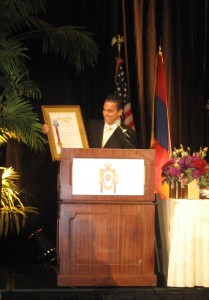 BURBANK, CA- This past weekend, Assemblyman Mike Gatto was honored to play a major role in the two-day celebration of the Pontifical visit of His Holiness Karekin II, Supreme Patriarch and Catholicos to All Armenians and the consecration of the newly constructed St. Leon Armenian Cathedral.
On Saturday, September 11, Gatto met with His Holiness Karekin II, and asked for and received his blessing. "As a member of the Christian faith, it was a tremendous honor to meet with the patriarch of the oldest Christian tradition," said Assemblyman Gatto. Gatto also attended the consecration liturgy at St. Leon Cathedral later that day.
On Sunday, September 12, Gatto addressed the Gala banquet for supporters of the Cathedral. Gatto was lauded for obtaining for the Cathedral special freeway signs to direct the faithful. The Cathedral clergy praised Gatto for the incredibly swift turnaround time for the erection of the signs. "I wanted the signs to be up for His Holiness's visit, so I worked very hard to move the state transportation department."
At the banquet, Gatto also presented a legislative resolution welcoming the Catholicos and commemorating the consecration of the cathedral. "This beautiful landmark is something you see in the great cities of Europe," Gatto stated in his remarks, "I am so proud to have it in my district." The resolution Gatto presented was co-signed by Speaker of the State Assembly John Perez, State Senator Joe Simitian and Assemblyman Kevin De León.