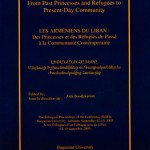 Belmont, MA — The National Association for Armenian Studies and Research (NAASR) will present a talk by Dr. Aida Boudjikanian, editor of Armenians of Lebanon: From Past Princesses and Refugees to Present-Day Community, on Thursday, October 7, at 8:00 p.m., at the NAASR Center, 395 Concord Avenue, Belmont, MA. The event will serve as the U.S. launch of the book, published by Haigazian University and NAASR's Armenian Heritage Press.
Armenians of Lebanon, which includes an introduction by Dr. Boudjikanian, compiles papers given at the 2005 conference "Armenians of Lebanon: Past and Present," held on the occasion of Haigazian's 50th anniversary. The conference was organized by Dr. Ara Sanjian, then the Director of the Department of Armenian Studies at Haigazian. The book was officially launched in Beirut on April 9, 2010.
Dr. Boudjikanian, originally from Lebanon and presently living in Montreal, has written and lectured widely on issues relating to the Armenian diaspora. She has authored an MA thesis on the Armenians of Lebanon and Ph.D. dissertations on the Armenians of Lyon (France) and Montreal.
Volume contributor Dr. Asbed Kotchikian of Bentley University will also be present and will offer remarks.
The hardcover book is 506 pages-long and has 14 chapters grouped thematically and chronologically in 8 parts. Seven chapters are in English, four in French, and three in Armenian—the languages in which the original papers were presented. Translated abstracts are given at the end of the chapters. The volume contains biographies of the authors and photographs and maps, as well as appendices with documents and additional information in several languages.
Covering the full span of Armenian history and society in Lebanon from medieval times to the present day, the book is a unique repository of the rich culture and vitality of one of the most important Armenian diaspora communities. It provides a wealth of information for both the scholar and the layperson and is, of course, of particular interest for those with ties to Lebanon.
Armenians of Lebanon is available from NAASR's bookstore for $35.00 (less 15% for NAASR members). The book will be on sale the night of the lecture and will be available for signing. For more information contact NAASR at 617-489-1610 or [email protected].