Los Angeles, CA – A delegation of the Armenian Council of America (ACA) participated in the annual remembrance of the Armenian Genocide by the Los Angeles County Board of Supervisors on May 3 at the Kenneth Hall of Administration, marking the 101st year of commemorating the Armenian Genocide.
The board meeting also included representatives from the Consulate General of Armenia and Service Employees International Unit (SEIU) Local 721. Supervisor Michael Antonovich opened the speeches by remembering the 1.5 million Armenians who perished during the genocide, and condemned the recent acts of violence against the Armenian people in Artsakh by Azeri forces. Antonovich also explained the significance of the emblem from the 100th year of the remembrance of the Armenian Genocide as a symbol of eternal reminiscence. He continued by stating, "I remember and I demand… I demand," to express his unwavering support for the recognition of the Armenian Genocide in all levels of government.
Supervisor Hilda Solis expressed how proud she is for representing members of the Armenian community, and for supporting the Armenian cause. Solis has been an advocate for the acknowledgement of the Armenian Genocide by the US Government alongside Antonovich.
Armenian community leaders delivered speeches thanking the Board of Supervisors for their continuous support, while also insisting the fight for justice must continue, especially in the wake of the Azeri attacks against the Armenians in Artsakh.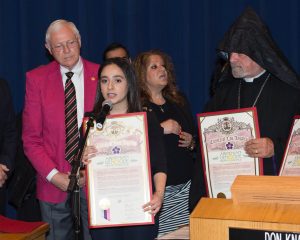 Deputy Consulate General of Armenia, Valery Mkrtoumian, thanked the Los Angeles Board of Supervisors for continuously honoring and commemorating the victims of the Armenian Genocide.
ACA board member, Maria Yepremian, also stated, "On behalf of the Armenian Council of America, and as an Armenian-American youth, I would like to thank the LA County Board of Supervisors for recognizing April 24 as the Commemoration of the Armenian Genocide. Your continuous support helps to strengthen the Armenian community in our fight for justice and truth, and for that we thank you."
The Board of Supervisors proceeded by giving certificates of proclamation which recognizes April 24, 2016 as the day for the commemoration of the Armenian Genocide.