SHUSHI — On October 5, Artsvik Sargsyan, Mayor of Shushi, the Nagorno Karabakh Republic, and Marlene Mourier, Mayor of Bourg-Les-Valence, France, who is on a visit to Artsakh, signed a Declaration of Friendship between the two towns.
The Declaration, in particular, reads that welcoming the consistent steps of the people and authorities of the Nagorno Karabakh (Artsakh) Republic aimed at the creation and development of a free and democratic society, as well as realizing that the isolation of the people of Nagorno Karabakh doesn't contribute to the establishment of dialogue between peoples and to the achievement of final peace, the parties decided to establish friendly relations between the two towns.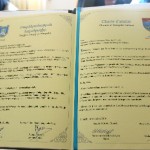 The Declaration aims to facilitate relations between the two towns and to promote implementation of programs in the spheres of education, culture, sports, trade, and local self-government.