YEREVAN (RFE/RL) — The Ministry of Emergency Situations said on Tuesday that it will train residents of border villages in northeastern Armenia to better guard against Azerbaijani gunfire and avoid accidentally crossing into Azerbaijan.
Emergency Situations Minister Armen Yeritsian said the ministry initiated the special "defense courses" for 21 rural communities in the Tavush province following the recent upsurge in fighting on the Armenian-Azerbaijani border and around Nagorno-Karabakh. He said the Armenian military, whose troops are stationed along the frontier, backed the idea.
"The villagers may have lived under gunfire for a long time, but we have specialists who will visit them and tell what they should do during gunfire," Yeritsian told RFE/RL's Armenian service (Azatutyun.am).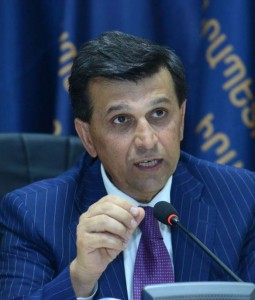 He said ministry staff will also publish detailed maps of those villages and surrounding areas to prevent accidental crossings of the Azerbaijani border by local residents. "We need to conduct explanatory work and tell them where they can go and where they can't," he said. "We will have detailed maps and share them with the villagers."
A 33-year-old resident of one of the border villages, Chinari, died on August 8 one day after wandering into Azerbaijan and being arrested by military authorities there. The Armenian government and many in Chinari believe that Karen Petrosian was murdered or beaten to death.
A 77-year-old resident of another Tavush village, Verin Karmiraghbyur, died in May three months after being detained on the Azerbaijani side of the border in similar circumstances. Doctors in Yerevan said the man, Mamikon Khojoyan, suffered serious injuries during his month-long captivity.
Citing these and other incidents, President Serzh Sarkisian on August 10 urged border villagers to exercises greater caution in their movements. "The residents of our border settlements need to realize that they are dealing with an incensed and savage enemy," he said.
Border villagers in both Armenia and Azerbaijan regularly come under fire during skirmishes between the two warring armies. Both sides reported serious damage to those communities during the recent escalation of truce violations in the Karabakh conflict zone.
The exchanges of fire from machine guns and automatic rifles not only injure civilians and damage their homes but also hamper farming on large swathes of land located on the line of fire, aggravating hardship endured by many farmers. Tavush residents have long been seeking economic privileges and assistance from the government in Yerevan.