SARDARAPAT — Armenia marked First Republic Day on Tuesday May 28, in a special ceremony celebrating the establishment of an independent Armenian republic state 95 years ago.
The ceremony took place at the Sardarapat war memorial 40 kilometers west of Yerevan, the site of a key battle with Ottoman Turkish troops that was followed by the declaration of Armenia's independence.
In a speech at the event, President Serzh Sarkisian called for unity to make achievements and uphold the restored statehood.
"For many nations the declaration of independence was a political act and even a grand ceremony whereas for us it was an ordeal. We did not even know that one or two days after the courageous May battles we would declare independence. We created Armenia's statehood right in the battle field at the expense of enormous casualties and losses, thanks to blood and faith, standing behind each other, looking forward. United!" said Sarkisian in his speech.
"May 28, 1918 heralded our physical deliverance and political rebirth; consequently, our people's valor and vigor were superbly manifested during the Great Patriotic War and in the battle of Artsakh. Today, here at Sardarapat, the Armenian soldier's firm tread and victorious spirit testify in the best possible way that we know the formula of survival and victory," he continued.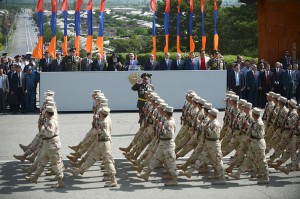 President Sarkisian said the younger generations need to be reminded of the important message of the ones who made May 28 a reality.
"Be united! Be consolidated by statehood! Rely on your own strength! Thus we are capable not only to restore our statehood and independence disrupted for centuries but make considerable achievements. Their foundations were laid here and today we are standing here proudly as citizens of a free and independent country, the heirs of heroic grandfathers," he said.
Following a ceremonial parade by Armenia's military units, the President Sarkisian and other dignitaries laid wreaths at the Memorial to the heroes of the Battle of Sardarapat.