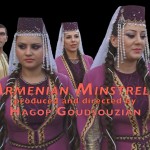 Los Angeles, CA — April 13, 2011 — KCET, independent public media for Southern and Central California, presents a special night of programming featuring back-to-back documentaries by filmmaker Hagop Goudsouzian on Sunday, April 24, in observance of Armenian Remembrance. Larry Zarian, Vice Chair of the California State Transportation Commission and former mayor of Glendale, will host the evening with his son – film and television actor Gregory Zarian. Armenian Minstrels begins at 3:30 p.m., followed by Armenian Exile at 5:00 p.m.
Armenian Minstrels – the newest film in Goudsouzian's trilogy of documentaries showcasing the vibrant culture and rich history of Armenia – traces the long tradition of folk music through performances and interviews with musicians and fans.
In Armenian Exile (2009), his second film, Goudsouzian paints a self-portrait in which he pursues a greater understanding of his cultural roots. In 1988, Nagorno-Karabakh's war for independence was in the headlines worldwide. Halfway across the world in Canada, Goudsouzian's peaceful world was suddenly shaken: "I had forgotten I was Armenian, until I saw the courage of these people who had never forgotten who they were and knew what they had to do." Seeking clarity of both history and self, Goudsouzian reflects on Armenian identity, which is at the heart of all his films.
About the filmmaker:
Born in Egypt, Hagop Goudsouzian is of Armenian descent and currently lives in Toronto. In partnership with TVOntario TFO, he has produced and directed a number of television and documentary series.