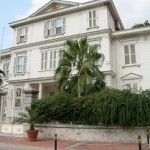 ISTANBUL — Turkey's Council of State rejected an appeal of the "We want to elect our own patriarch" initiative group.
The high court said the issue fell outside of its jurisdiction, Hurriyet Daily News &Economic Review reported.
An initiating committee consisting of lay representatives of the Armenian community is at odds with the patriarchate over who should succeed the gravely ill Patriarch Mesrop II as spiritual leader of the community. The lay members have been seeking to annul the Istanbul Governor's Office's decision to name Archbishop Aram Ateshian as "deputy patriarch" and give him administrative authority over the Armenian Patriarchate in Istanbul. The move, which was also supported by the Interior Ministry, has effectively split into two on the issue.
Last December the initiative group calling itself "We want to elect our own patriarch" organized a press conference, saying they want to elect a religious leader who will represent Armenian community.
Istanbul Armenians collected 5,359 signatures to oppose Turkish Government's decision to appoint a patriarch vicar.
Armenian Patriarch of Constantinople Mersrob Mutafyan is permanently ill suffering from frontal dementia. He was elected patriarch for life in 1998 by the Armenian community. One group within the Armenian community considers they should elect a new patriarch, whereas another group, objects to this, saying it is against traditions to elect a new patriarch while the elected one is still alive.